About SCCBC
The Sports Car Club of British Columbia (SCCBC) was founded as a non-profit society in 1951. The objectives of the society are:
To promote and encourage and support motor sport within the Province of British Columbia.
To organize competitive motor events in all their branches.
To foster sportsmanship and give mutual guidance and assistance within the membership.
To encourage and promote safe road conduct and do everything possible to raise prestige of the sports car.
The Club's commitment to safe, competitive road racing in an atmosphere of sportsmanship ensures a great racing experience for drivers, crew and spectators alike. New drivers and fans are always welcome.
Our History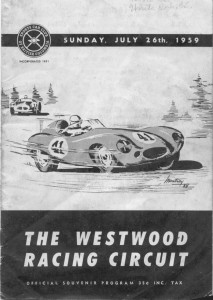 The SCCBC began racing at the Abbotsford Airport from 1952 to 1956. In 1957 the membership raised funding through debentures and built a full service road course in Coquitlam on Crown Land leased from the Provincial Government. For the next 32 years the club operated the track known as Westwood Motorsport Park, and affectionately referred to as Mountain High Racing. Westwood gained recognition throughout North America and played host to such greats as Gilles Villeneuve, Bobby Rahal, and Michael Andretti. The annual Atlantic series races often drew over 10,000 spectators. Sadly, the exciting facility was closed in 1990 to make way for the Westwood Plateau housing development.
In July '94, the Club opened its current racing venue, the road course at Mission Raceway Park, thanks to support from the BC Custom Car Association and Molson Indy Vancouver. The track, a tight two kilometer, seven turn course, provided a challenge to drivers and offered exceptional viewing for spectators. Over the next eight years the track was expanded to nine turns with two large grandstands that provide a view of over 80% of the racetrack. Each year has seen larger racing grids, and a surge in club membership. Two race driver training courses provided by the club each year at the start and mid-season have proven very popular with racing enthusiasts.
The 2002 racing season saw the birth of the West Coast Sports Car Championship. A highly competitive series for closed wheel senior drivers, which exceeded organizers expectations, was well supported by sponsors and spectators.
Club Operations
The SCCBC is operated through the Executive Committee, Race Drivers Committee, Track Operations Committee, and various other committees which are established as needed. All positions in the club are held by volunteers. All club activities are funded by the members, the drivers and the sponsors.
The membership includes motorsport enthusiasts from many different backgrounds: doctors and lawyers, aircraft mechanics and business owners, just to name a few. To join the club, there is a nominal annual membership fee set by the executive. A family membership is also available for a few dollars more.