Driver Information
Welcome to our Driver Info page. This page provides vital information for race drivers in advance of upcoming race events. You'll find important race announcements along with tips, rules and regulations to help make your race weekend both safe and enjoyable.
If you're looking for the current race season schedule, visit our schedule page.
Facility Access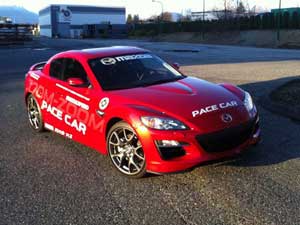 The gates to River's Edge Road Course at Mission Raceway facility are open at 5:00 PM on the day prior to a race event. There is no access to the facility before 5:00 PM on the day prior to the race, with the exception of scheduled practice days. The track is frequently rented and the facility must be remain available solely for the renters during the rental period.
Paddock Reservations
Annual paddock reservations begin each year in mid-February. To request or renew your annual paddock location, please contact the SCCBC Paddock Marshall. Visit our paddock map page for pit layout and site locations.
Driver Profiles
Drivers, help the SCCBC keep our sport fun and exciting for our fans by providing your driver and car profile information for use by our race PA announcer. You can complete the short form at this page.
Practice Information
The practice day is held the day prior to the race weekend. Gates are open at 9:00 AM with practice running from 10:00 AM to 4:00 PM.
Drivers participating in weekend race events have the option to register and pay a separate fee for the practice day.
You must hold a valid race drivers license and club affiliation to participate in the SCCBC practice day.
Practices are held at River's Edge Raceway prior to key weekends throughout the season.
Practice day rules must be studied and followed by both drivers and crew.
Practice sessions are typically twenty minutes and alternate between open and closed wheel cars.
Practice day registration links can be found on our schedule page.
Funding costs to host a practice day require registration of approximately 20 drivers. If registration is not sufficient to fund the practice day operating costs one week in advance, the practice day will be cancelled.
Forms
Key racing forms and links to documents from our governing bodies and sister organizations can be found below.
CACC Race Supplemental Regs
Download the SCCBC race regulations supplemental to the Confederation of Autosport Car Clubs (CACC) regulations
CACC Time Attack Supplemental Regs
Download the SCCBC time attack regulations supplemental to the Confederation of Autosport Car Clubs (CACC) regulations
ICSCC Supplemental Regs
Download the SCCBC regulations supplemental to the International Conference of Sports Car Clubs (ICSCC) regulations
Tech Form
Download and complete this fillable form and bring it with you on the race weekend.
Covid-19 Self-Declaration
Everyone MUST also complete the Covid-19 Self-Declaration and bring it with them on the race weekend.
Transponder Rental Form
If you require a Transponder Rental you must complete the following form and email it to SCCBC Race Registrar by midnight, Wednesday before the race event. Enter the first date you need the transponder at the top of the form.
Do not enter a transponder as it will be assigned to you.
Complete all other form data as completely as possible.
CACC Forms
Find forms specific to the Confederation of Autosport Car Clubs
CACC Regulations
Access to CACC Competition Rules and Regulations
ICSCC Forms
Find forms specific to the International Conference of Sports Car Clubs
ICSCC Regulations
Regulations for participating in ICSCC Pacific Northwest events
Practice Rules
Familiarize yourself with these rules for a safe and productive practice day
CACC Parental Consent
Sign the CACC Parental Consent Waiver form