SCCBC Practice Rules
Having a successful practice day helps pave the way for a successful race weekend. Following our simple practice rules will help make for a safe and successful practice day for all involved. All participants are expected to familiarize themselves with and adhere to these rules.
R.D.C. volunteers conduct practice days. The R.D.C. member in charge has full authority to disallow anyone for lack of compliance to rules. Abuse of R.D.C. members or other volunteers will result in exclusion. Refunds will not be granted.
Practice Rules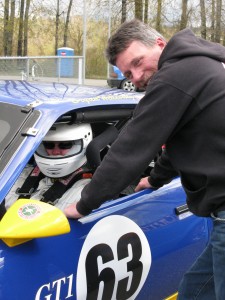 Do not park in any site on the paved paddock area unless you have been assigned that specific spot. If you do not know which paddock site you've been assigned, refer to the paddock grid found at the front gate or consult the Paddock Marshall.
All racing rules are in full effect, including safety and sound.
All event supplementary regulations apply. Violators may be excluded or fined.
Practice days are strictly for practicing. No wheel to wheel racing is allowed. Driving in excess of the conditions may result in exclusion.
Limited workers are on course. You may be required to help man the course between your sessions.
Only licensed (Race, Vintage Race & Novice) registered drivers may drive on track. Violators will be sent home. You are responsible for your crew or anyone else driving your car.
All drivers and crew must sign the electronic waiver.
Full driving safety gear must be worn.
Window nets must be properly fixed.
Pets must be secured on a short leash.
All garbage, oil and other discarded items must be removed from paddock.
Entry to track is through Pre-Grid. Hold in pre-grid until released.
If you oil down the track you may be charged for dry sweep. You are expected to help clean up.
Pull well off the track as soon as you become aware of any oil or fuel leakage or other potentially dangerous mechanical problem. Help will be provided to get back to the paddock.
Failure to respond to track flags may result in exclusion.
No passengers are allowed.
You can download a copy of the current rules here.