Track History
The Making of the River's Edge Road Course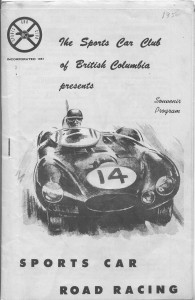 In the early to mid 1950's the SCCBC held racing events on unused runways at Abbotsford Airstrip. They dreamed of developing a full facility Road Course of their own. In 1958, financed by debentures sold to members and other enthusiasts, and with much of the labour performed by those same members, Westwood Motorsport Park was carved out of the wilderness in North Coquitlam.
For 32 years the Sports Car Club of B.C. ran the only club-owned and operated road racing facility in Canada. In 1990, the B.C. government cancelled the long-term lease and Westwood was closed forever.
In the fall of 1992, with the support of the B.C. Custom Car Association, the club that owns and operates Mission Raceway Park, SCCBC held their first Driver Training School. Using the cool down section of the drag strip, the existing return roads and a new paved section called the Club Curves the school attracted just under 20 new students and a dozen seniors wanting a refresher.
Cement barriers and tire walls were needed in areas where there was insufficient runoff. Throughout 1993, the executive negotiated a contract with the B.C. Custom Car Association. Two more driver training courses, with increasing enrollment, and several test and tune days were held at the site which was slowly being improved. By September the contract was signed. With the support at Molson Indy Vancouver, the road course was completed in the Spring of 1994 and three ICSCC and club events were held followed by a full year of very successful racing in 1995. The facility continues to be improved and participation increases each year as both competitor and fan numbers grow steadily.