Track History
The Making of the River's Edge Road Course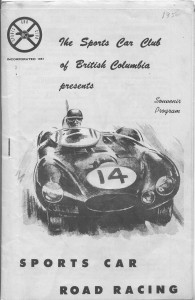 The Sports Car Club of BC incorporated as a not for profit society in 1951 and began sports car racing at the Abbotsford Airport in 1952. In 1957 the membership raised funding through debentures and built a full service road course in Coquitlam on crown land leased from the Provincial Government. For the next 32 years the club operated the track known as Westwood Motorsport Park, and affectionately referred to as Mountain High Racing. Westwood gained recognition throughout North America and played host to such greats as Gilles Villeneuve, Bobby Rahal, and Michael Andretti. The annual Atlantic series races often drew over 10,000 spectators. Sadly, the exciting facility was closed in 1990 to make way for the Westwood Plateau housing development and a golf course.
In the fall of 1992 the B.C. Custom Car Association (BCCCA), who own and operate Mission Raceway Park, generously permitted SCCBC to hold a Driver Training School on the cool down section of the drag strip and the existing return roads. We paved a section of the back return road called the Cascade Curves, funded by Portland's Cascade Sports Car Club to make a course suitable for schools and lapping sessions. Those curves are now turns 4-5-6. The school attracted just under 20 new students and a dozen racers wanting a refresher course. It was a promising start but the step from schools to racing required cement barriers, tire walls and more pavement.
In 1993, the club negotiated a contract with the BCCCA, held two more driver schools with increasing enrollment, and several test and tune days. Continued improvements were funded through those events, and through an initiative called "Adopt a Block", wherein members and supporters donated $250 to adopt cement barriers which were required to line the track. In September the contract with BCCCA was signed and with the support of Molson Indy Vancouver, who contracted us to provide experienced staff for the Indy event, blocks were acquired.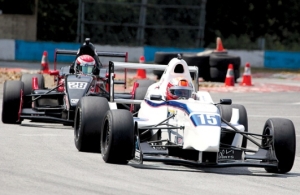 The road course was completed in the spring of 1994. It was a tight two kilometer, seven turn course, which provided a challenge to drivers and offered exceptional viewing for spectators. Six successful race weekends were held, with a grand opening in July which was attended by Phil Heard from Molson Indy Vancouver, the late Greg Moore, for whom turn 2 is named, Ron Farmer representing BCCCA, over 150 race entrants, and ecstatic club members who were seeing their hard work come to fruition. Road racing was back in BC!
The club membership and the track continued to grow. In 2001 the track was extended and the current turns 1 & 2, and several more paddocks spaces were added. On the celebration of our 10th anniversary the track was christened "The River's Edge Road Course at Mission Raceway Park". In 2008 more paddocks spaces were paved, turns 7-8-9 were reconfigured and the chicane was removed from the front straight providing for a longer, and faster, straightaway into the new turn 1.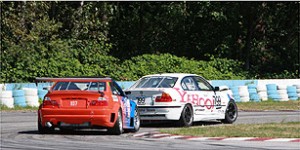 Twenty five years later the track has 9 turns, 126 paved paddock spaces, new grandstands providing a view of over 80% of the track, including one right in the paddock, and a washroom building. We host 7 race weekends and two drivers' schools each year (which are always oversubscribed). There are dozens of Corporate, club, and private track rentals at the River's Edge, including motorcycle racing and lapping days.
Plans are in place for a new clubhouse in 2019. Improvements to the track and spectator areas are ongoing. Membership is open year round. New club members and spectators are always welcome. Check out our schedule page for this year's race dates, and keep updated on our facebook page.