Club Championship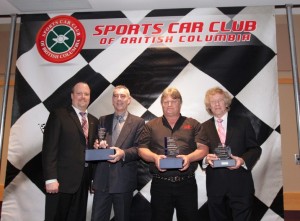 Racers in the Sports Car Club of BC are automatically included in an annual club championship competition, where points allocated in each race at River's Edge Road Course at Mission Raceway are compiled into standings for the season.
Club Group and Class Championships
2015 was a pivotal year for SCCBC championship awards. Club class championships were introduced for the first time and the points awarding system was revamped with the goal of making the system more equitable. The 2015 points system and club class and group championships were run on a trial basis for the 2015 season when they were later fully adopted with some modifications at the 2016 AGM. For more information on the rules governing the club championship, visit our Club Group and Class Championship page.
Click here for the 2020 SCCBC Class and Group Championship standings.
Championship and Awards History
To download and view historical club championship standings and results, select a year from the Club Championship Results dropdown list below. SCCBC club award history can be found on our SCCBC Awards page.
Club Championship Results
Pre-2015 Points Allocation System
Prior to the 2015 season, points for each SCCBC race were assigned to the first six finishers in each class based on a 9, 6, 4, 3, 2, 1 declining scale. That is, the first place finisher gets 9 points, second place 6 points, and so on. In addition, for every club member you beat in your class, you get an extra 1/2 point. Drivers must start 50% plus one of the races in order to qualify for championship standing. Note that non-members are not considered when calculating points.