The SCCBC Formula Ford drivers group is pleased to announce the second annual Formula Ford Open House scheduled for Saturday, November 22, 5:30 to 8:30 pm, at MCE Motors in Chilliwack.
SCCBC's Formula Ford drivers extend a warm invitation to anyone with an interest in motorsport racing to come and enjoy an evening filled with motorsport history and discussion on the benefits of racing in the FF class.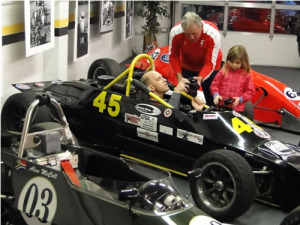 Formula Ford is one of motorsport racing's best kept secrets, combining affordable purchase and operating costs with fast lap times and the unparalleled thrill of classic open wheel formula car racing. The Formula Ford Open House is a once-a-year opportunity to discover the low cost, high thrills, fun and comradery that the class and these simple and durable machines offer.
For the 2014 Formula Ford Open House a number of new events have been added including:
Gear Shift – Need more bite between turns 2 and 3? Add some teeth to your race line with a live 20-minute demonstration illustrating the speed and ease of swapping Hewland transmission gear sets.
Anatomy of a Kent – An "exploded view" display of the venerable 1.6l Ford Cortina Kent engine that has powered the Formula Ford class for over 35 years will be available for your inspection.
Paddock Alignment – The open and simple construction of the Formula Ford make tuning and adjustments quick and simple. Products from MK Technologies make the job even easier. MKT lifts, carts, setup wheels and alignment tools for in-paddock chassis setup will be available for review.
Driver's Seat – If you can't drive one, why not at least kick the tires and test the cockpit fit? Put yourself in the driver's seat of any or all of the Formula Ford cars that will be on display.
Dare to Dream – We've shaken the bushes looking for quality Formula Ford cars for sale and will have a number of specimens available for your inspection, or for your paddock space! Who knows, this may be the day you make your dream of racing a true formula car come true!

Race videos and photographs will also be presented throughout the evening. Refreshments will be provided and pizza will be served at 7:00 pm.
Mark your calendar and don't forget to RSVP to info@formulafordbc.com. For more information, visit http://www.formulafordbc.com.
Location: MCE Motors, 45859 Airport Road, Chilliwack BC V2S 1A3 • 604-701-6008 • www.mcemotors.com