Lapping Sessions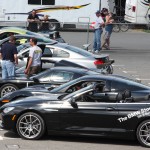 In an effort to bring the thrill of motorsport racing to a wider audience, the Sports Car Club of BC has introduced lapping sessions at River's Edge Road Course at Mission Raceway. Lapping sessions provide an inexpensive opportunity for both the novice and seasoned motoring enthusiast to bring their vehicles onto the racetrack and drive in a demanding but controlled racing environment. Drivers exercise and develop their driving skills while pushing their vehicles beyond the limits normally available on the street. Note that some previous lapping experience at River's Edge is required and passing is allowed only on the track's main straight.
Fun, excitement and comraderie are the order of the day at SCCBC's lapping sessions. For more information, download the documents below or contact the SCCBC lapping coordinator.
Download the SCCBC Lapping Sessions brochure.
Download the CACC regulations governing lapping sessions.
Download the SCCBC Lapping Supplemental Regulations for CACC.