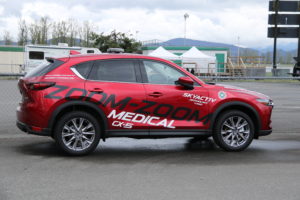 With a level of generosity that has characterized their support for racing in BC, Mazda Canada has once again stepped forward to provide a pair of Mazda vehicles for the 2019 racing season.
These sporty yet elegant cars will provide pace and chase duties at every SCCBC/CACC race at Mission Raceway Park.
In response, the Sports Car Club of BC will provide free admission to every Mazda vehicle and their passengers attending SCCBC races at Mission Raceway Park in 2019.
Mazda Canada has been a devoted sponsor of motorsport racing in BC, providing vehicles for track duties at Mission Raceway Park for many years now.
The SCCBC hosts the premier racing events held in BC at Mission Raceway Park in Mission, BC.