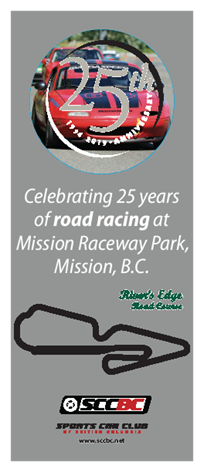 Preparations are well underway for the July 27-28 'MISSION 25' CACC race weekend. This event celebrates the 25th anniversary of the grand opening of the River's Edge Road Course at Mission Raceway Park, and is in support of the Mission Hospice Society.
Hosted by the Sports Car Club of BC (SCCBC) the event stands to be the best of the season with plenty of racing action. On the very same weekend, SCCBC will be hosting a 15 year reunion of our Sedan Drivers from Molson Indy Vancouver.
The SCCBC held driver training schools and lapping events in 1992 and 1993 but did not open for racing until 1994. This was accomplished through the determination and support of a core of loyal club members known now as the "Founders of River's Edge Road Course", who will be celebrated at this event. Because of them more than 1800 people have benefited from more than 50 driver training schools, 150 race weekends have attracted more than 13,000 race entries.
We will also celebrate the more than 50 individuals, companies, and motorsport clubs, known as our Block Parents, who adopted blocks (cement wall barriers) which were needed to line the track edges. Since 1994 we have added new corners requiring more blocks which were partially funded by more adoptions in 2000-2001. We laid more pavement, built more tire walls and new grandstands, added storage containers, fork lifts, trucks etc. Building, repairing and rebuilding over 25 years. If you haven't been to one of our events recently, you will notice some big changes, including 2 grandstands with great views of the track.
Founders and Block Parents are invited to participate in parade laps on Saturday during the lunch break and our Molson Indy Sedan drivers and officials are invited to enjoy parade laps on Sunday.
Race events will include the full CACC championship classes and a feature race for the Northwest Formula Continental Series. Racing is scheduled for both Saturday and Sunday.
We are looking forward to seeing you all and hope you can join us.