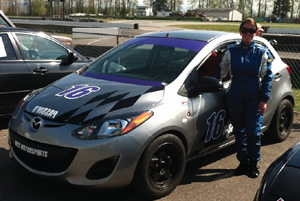 The SCCBC's Cherie Storms and Andrei Kisel have been selected as finalists for the 2013 Mazda Club Racer Shootout. As 2 of only 3 Canadian finalists, and a total of 16 in all of North America, Cherie and Andrei will now each work towards being 1 of the 5 selected to travel to Buttonwillow Raceway, CA, November 11-13 to participate in the driving portion of the Shootout.
This elite group of 16 represents Championship winning drivers of Mazda's from all across North America. Representing SCCBC, Cherie and Andrei will compete against very talented competition from SCCA, Skip Barber Racing, NASA and the Toyo Tires Spec Miata Series. In addition, Cherie is the first female driver to ever be chosen as a finalist.
Mazda Motorsports welcomed SCCBC to be part of the 2013 Contingency Program and in addition to the race win proceeds Cherie, Andrei and others who registered for this program have already won, this opportunity is the big prize. Should Cherie or Andrei be chosen as one of the five participants, and go on to win the Shootout, they would receive a full season in the 2014 SCCA Pro Racing Mazda MX-5 Cup, valued at $75,000 USD.
Please join with SCCBC club president Steve Hocaluk and everyone in the club in congratulating both Cherie and Andrei and wishing them best of luck in the final competition.