The membership of the Sport Car Club of BC was pleased to welcome Scott Hargrove to the 2015 SCCBC Annual General Meeting on Wednesday, February 11. Scott, a proud SCCBC member, has had another outstanding year as one of the top drivers (and the club's sole connection) in the Formula Mazda series. Scott entertained the membership by recounting his racing career, starting in karting at the tender age of 13, to his recent great seasons in Formula Mazda at the ripe old age of 21.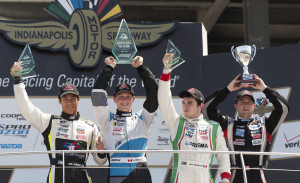 Scott rose rapidly through the karting ranks, catching the eyes of more than a few notable racers, and managed to secure test drives and rides with some top national teams. Scott quickly parlayed these opportunities into numerous awards and championships. Scott is intent on making his mark in Formula Mazda series and is actively seeking supplemental sponsorship that will allow him to secure a full-time ride for the 2015 season.
Scott is a very bright light in today's racing scene, one of the best drivers to represent SCCBC and we expect to see him frequent the top step of the podium. The Club wishes him all the best in his quest to advance his racing career.
For more information, visit http://www.scotthargrove.com.