Formula Ford Open House, Saturday November 23
The Sports Car Club of BC's Formula Ford drivers group is presenting an open house on Saturday, November 23, to introduce anyone with an interest in Formula racing to the local Formula Ford racing scene. The open house will feature a selection of recent and classic open wheel cars including Tiga, Crossle and Van Diemen formula racers. Presentations will be provided on a variety of topics including the "History of Formula Ford Racing", "Why Choose Formula Ford", "Acquiring and Operating a Formula Ford" and "Formula Ford Maintenance".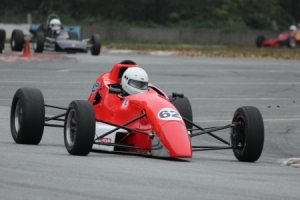 And, of course, refreshments will be served. Mark your calendar for this fun event, come and meet some long-time racers and be prepared to hop in the cockpit of some of these timeless open wheel race cars.
Date: Saturday, November 23, 2013
Time: 4:00 pm to 8:00 pm
Place: MCE Motors, 45895 Airport Road, Chilliwack
Directions: East on Highway 1 to Chilliwack, north on Yale Road West, east on Airport Road
Questions/RSVP: Felim Power