Get Involved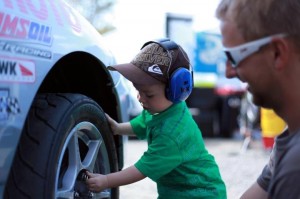 Without a doubt, auto racing is one of the most exciting sports ever devised. There is an indescribable, visceral feeling as a jostling crowd of brutishly powerful and highly engineered automobiles thunder by, each one daring the other to step beyond the physical limits that tie them to the asphalt.
Or not. At River's Edge Road Course at Mission Raceway, we see racing as something beyond just grease and gas, rubber and metal, horsepower and speed. We also see it as a family affair, a place where there is something for everyone. Where you don't need a five- or six-figure annual budget to compete, and where the whole family can be involved in a challenging, rewarding and unifying experience.
Race With Us
Whether your passion is to pilot a powerful formula car around the race track at peak speeds or cajole a wonderfully tempermental 50-year-old vintage car through a crowd of them, SCCBC and the River's Edge have a class for you. Visit our Race With Us page to learn more about the type of cars and their competition.
Driver Training
You don't need to wait until you've found a suitable car and class to work toward your race license. Visit our Driver Training page to learn how you can become a skilled, competitive driver, all while qualifying for your novice race license.
Refer to our driver training frequently asked questions page for answers to our most common driver training course questions.
Sponsorships
The role of sponsorship in every not-for-profit organization is vital to its success. If you are interested in having your firm associated with the glamour and excitement of motorsport racing, visit our sponsor page for more information.
Become a Member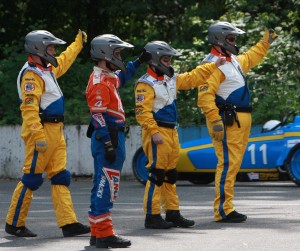 Joining the SCCBC is not just for race drivers. The SCCBC is a club whose mission is to promote the sport of motor racing in British Columbia. If you share our passion for motorsport racing in BC, you'll find kindred spirits at the SCCBC. Visit our Membership page to find out why membership in the SCCBC may be just the tonic for you.
Volunteers
If tearing up the track at breakneck speeds is not your cup of tea, you can join our corps of talented and dedicated volunteers who make this sport run safely and efficiently. We have rewarding volunteer positions available for turnworkers, safety crew, in timing and scoring, track operations, administration and in other skilled and unskilled areas. Visit our Volunteers page for more information.
Safety Workers
Regarded as our most valued volunteer group, the safety crew and turnworkers provide an indispensible service with a knowledge and skill set that keep the race course safe. Visit our Motorsport and Emergency Turnworkers Association (META) page for information on how you can join this group.