MK Technologies' High-tech Paddock Balancing Act

A demonstration of the latest in race car alignment technology was performed at the SCCBC race at Mission Raceway Park on July 12. Marty Knoll of MK Technologies, Canada's leading motorsport pit equipment product manufacturer, brought the latest in his company's lineup to perform a complete balancing and alignment of Alan McColl's vintage 1977 Tiga Formula Ford. Plenty of formula drivers were on hand to take in the technical demonstration.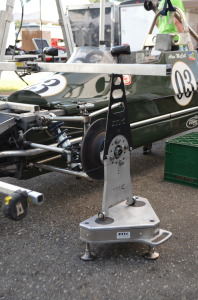 First, an MKT A-Frame Lift was setup from its collapsed, portable state. This lift has a 2000-lb capacity and effortlessly hoisted the 900-lb Tiga to a comfortable working height. With the lift on casters, we were able to quickly reposition the unit with the suspended car to the optimal location in the paddock space. Once in the correct location, the Tiga was temporarily lowered onto a set of MKT Chassis Stands in order to remove the wheels. The Tiga hubs were then fitted with a set of MKT Basic Setup Wheels. These setup wheels are not wheels in the normal sense but a skillfully engineered set of aluminum plates. These plates take up far less working area than the Tiga tires and wheels and allow full access to all suspension components in order to apply the necessary adjustments.
Next, a set of MKT ZeD (zero-deflection) 2.0 Scale Pads were setup on a perfectly level plane using the built-in adjustable footpads. These zero-deflection scales are the most accurate scale pad available today and will weigh the car accurately regardless of the the race car's resting location on the scale top. Weight is guaranteed to be accurate to within 0.1 lb anywhere on the pad surface.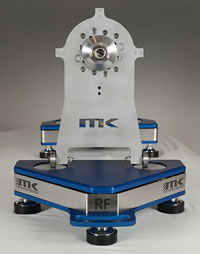 The Tiga was then lifted off the chassis stands and lowered such that its setup wheels rested on the ZeD scale pads.  A set of MKT Parallel String Toe Bars were installed at the front and rear of the car. The toe bars are a simple and inexpensive tool to quickly and accurately set vehicle wheel toe-in and camber. MK Technologies makes toe bars for a wide variety of formula and sedan race cars. Adding the MKT Toe and Camber Board to the configuration mix, we were able to take a quick and accurate reading of each wheel's articulating plane.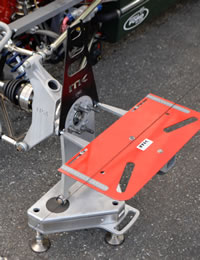 With all equipment in place, the car's setup condition was assessed and the necessary adjustments were quickly applied. Truthfully, on a track record-holding Formula Ford, there wasn't too much that needed changing. Nevertheless, the entire balancing and alignment process for the Tiga was complete in the space of two hours, a record-setting accomplishment at any track.
To the formula drivers in attendance, this was a truly impressive demonstration of high quality and accurate equipment, plainly making the job of balancing and aligning your car in your small paddock space a quick and simple process.
For more information on these and other high quality pit components made by MK Technologies, visit http://www.mktechnologies.com or call 250-491-3565 or toll-free at 888-764-7875.