SCCBC is proud to present the "Race for the House" on July 18 and 19 in support of the Ronald MacDonald House of Vancouver. The Ronald MacDonald House (RMH) plays host to families of sick children receiving treatment in local hospitals and relies, in part, on the generous support of the public. SCCBC, always proud to do its part, was the second largest donor to the facility in 2014.
The 2015 "Race for the House" will be another great motorsport event in Vancouver. A wide variety of race cars will be in attendance, with open wheel Formula Continental cars taking centre stage this year. Best of all, for a small donation, the public can experience the thrill of motorsport racing by taking a few laps at speed in a high-performance car around the Road Course at Mission Raceway Park in our Hot Laps event. 50/50 draws will also be held each day in support of the House.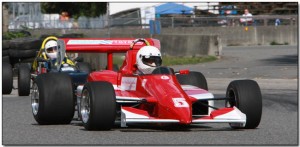 Ronald MacDonald House has become an integral part of the treatment of sick children in Vancouver. In response to increasing demand, a new Ronald MacDonald House opened last year and can accommodate up to 73 families at one time, and up to 2500 over the course of a year.
Most of the families using the facility are from out of town with children receiving treatment at Children's Hospital for Cancer and other serious illnesses, and stay for an average 57 days. Each night's stay at RMH costs $75, with the family asked to pay only $12. Fund-raising events such as the SCCBC Charity Weekend raises much needed funds to cover the costs of these family stays and is a wonderful way for us to help the smallest and most vulnerable in our community.
Mark your calendars for July 18 and 19 and come out to support Ronald MacDonald House at SCCBC's "Race for the House". You can find fan information including directions on this page. See you there!