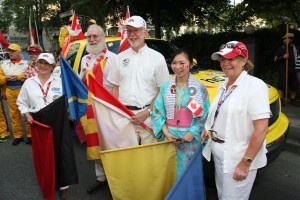 On July 1, the Sports Car Club of BC brought the thrill of motorsport racing to downtown Vancouver by participating in the 2013 Canada Day Parade. The event was a great success and undoubtedly helped raise the profile of motorsport racing in Vancouver and with visitors from throughout the region. On behalf of the SCCBC, club secretary Cherie Storms expressed appreciation for those who so generously helped with the event.
"I would like to thank all parade participants for making SCCBC's entry in the 5th Annual Canada Day Parade in Vancouver a great success. You all wowed the crowds by presenting a diverse, colourful and entertaining parade.
"Participating in the Canada Day parade provides an opportunity for SCCBC, META, Safety and our volunteers to introduce and bring to the forefront our clubs, our race track, our Vision to all of our community friends, family and local businesses who may watch or take part in some way with the Canada day festivities.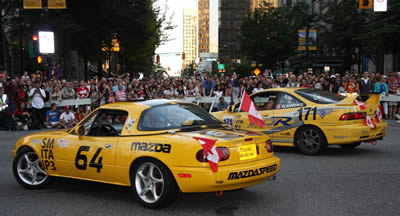 "The objects of our Society are: to promote and encourage and support motorsport within the Province of British Columbia and I believe that participating in this televised event that also yielded 300,000 spectators definitely helped us accomplish this goal.
"We had perfect weather and I hope you all enjoyed yourselves, it was a very proud showing of our club and the community we provided and we look forward to an opportunity for us celebrate the 6th Annual Canada Parade again next year.
"We had the privilege of having our official club photographer, Gerry Frechette, out taking photos of us in the parade, and the pictures are awesome! You can find all of them on Gerry's website at this link.
"I appreciate everyone's cooperation and patience as we dealt with the heat and getting all of us into our sequencing positions. I know some of you had a long day – thank you, you were all amazing!"