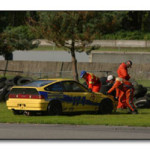 Globe and Mail motorsport correspondent Jeff Papone's recent article on the unsung heroes of motorsport racing recognizes the huge contribution that motorsport safety and corner workers make to keep auto racing safe, often at great risk to their own safety.
These are the tireless volunteers that form the quiet backbone of motorsports by combining a rare technical skill set with a love and commitment to demanding work in a fast and sometimes dangerous sport. These are the people that make the sport efficient, fun, and most importantly, safe.
From the volunteer starter waving the green flag to the friendly waves from the turnworkers after the checkered flag, our drivers have a deep respect and a great appreciation for their own unsung heroes at River's Edge Road Course at Mission Raceway.
River's Edge has a place for just about anyone interested in volunteering in motorsport racing. If you would like to become one of our heroes at River's Edge, visit our Volunteer or META pages for more information.