A long time SCCBC member, Bill Okell has been iducted into the Victoria Auto Racing Hall of fame this year.
Congratulations Bill!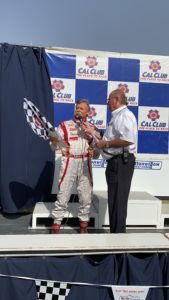 A CTV news reporter once asked Bill Okell why he raced the same sports car for over 40 years? His response "It's like wearing a good old pair of shoes that just fit comfortably, and just keep lasting and lasting".
From 1974 when he purchased the 1964 MGB roadster from Metro Toyota's used car lot, he has considered the MG as a "project to get the most of the car".
From those early days in the mid 70's, Port Coquitlam's Westwood Race Track to the 2017 Sports Car Club of America's National Championship at the storied Indianapolis Motor Speedway, Bill Okell has always maintained progress in his competitive spirit.
The early 70's was a time to compete in the International Conference of Sports Car Clubs. Racing throughout the Pacific Northwest finishing 3rd, three times from 1978, 1980 and 1981 in the E-Production championship and a 4th in the 1980 E-Improved Production title.

Those years were also a time to begin to hone his motorsports broadcasting skills, working on a contract basis at CFAX Radio and writing articles for the Flynn family at the Sportscaster weekly newspaper.
He entered the U.S. Regional and National SCCA programs in the 80's competing in the Northern Pacific Division, winning several E-Production, Oregon Region races while placing in the top three in National races. SCCA Oregon region awarded him with E-Production titles in 1985 and 1986 with 2nd place finishes in 1984 and 1988.
With racing success in hand, he gained four invites to the SCCA Pacific Coast Road Racing Championships held each year at Sonoma Raceway. His best finish was a 4th place in 1987. Broadcasting and motorsport writing continued to flourish with articles in the West Coast Sports magazine, Island Sports magazine plus spare time television reporting for CHEK TV and continued air time with CFAX 1070 radio.
The next decade brought on new opportunities with the media, working with Dan and Lance Wade, Roy and Gary Smith with their NASCAR Winston West programs venturing with both families to Japan's Motegi Race track as their media rep. CFAX would hire Okell to cover all of the Molson Indy Vancouver races from 1990 to 2005.
The Sports Car Club of British Columbia was invited to form Invitational Sports Car Races, accompanying the Indy Car series. Bill Okell received the invite and raced at the False Creek downtown site in 1995 and 1996, 2000 to 2005 with his best finish, 2nd place in the P3 race class in 2003.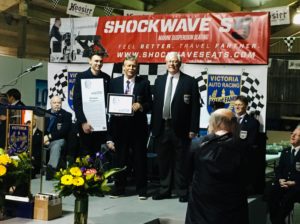 Greater broadcasting and racing opportunities now followed into the 21st century with a race class GT4 win in 2008 at the Invitational Sports Car Race at the Rexall Edmonton Indy and a 2nd place finish in the GT 3 class race at the 2011 Eurasia Invitational Rexall Indy in Alberta. He now took on other racing challenges competing with Curt Storms' Abbottsford sports car racing team winning four GT-U class championships with several Mission Raceway track records, driving Storms Toyota Corolla and Honda CRX Si.


From the media side, his continued broadcasting on CFAX and CHEK TV landed him a television motorsport reporting position with the Toronto TV Sports Network Headline Sports where he would interview Indy Car drivers in the 2002 Molson Indy Vancouver.
San Francisco's Nasport race director Chuck McKinney invited Okell to compete in the West Coast Nasport Lite championship driving the MGB that was gaining more speed at every track. From 2010 to the present he would set, and still hold, Nasport Lite track records at Sacramento's Thunderhill Raceway Park, Monterey's Laguna Seca Raceway, and San Francisco's Sonoma Raceway. He has won the SCCA San Francisco based Nasport championship various times. This success gained him invites back to the SCCA's Pacific Coast Road Racing Championships, held each year at Fontana, California's Auto Club Speedway. He won both times in 2016 and 2017, setting new track records in the SCCA Nasport Lite class.
With the SCCA now returning the National Championship back to the west coast on a revolving basis, San Francisco based Huffaker Engineering contracted Okell to race their MG Midget in the 2014 SCCA Run Offs where he finished in 10th place, in the F Production race at Laguna Seca. With four additional years added to the contract, Okell has raced in a total of 32 SCCA U.S. Majors Tour races, with four race class wins, setting three track records while winning the 2017 SCCA U.S. Majors Tour, Western Conference Championship for the GT-L class. This accomplishment qualified him to race at the SCCA National Championship held in late September of 2017 at Indianapolis Motor Speedway where he finished 12th in the GT-L race and 22nd in F-Production.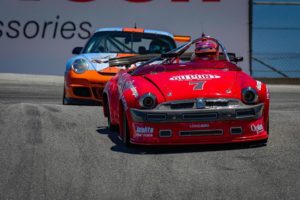 His racing in 2018 includes one SCCA U.S. Majors win at Bakersfield's Buttonwillow Raceway Park with a track record, which qualified him to race at the SCCA National Championships at Sonoma Raceway in late October. This was his third National Championship appearance in the last five years. In the GTL race, he started 15th and finished 5th, his best finish ever at the Runoffs also earning him the Sunoco Hard Charger Award. In the National Production race, he started 15th and finished 10th, which tied him for his second Sunoco Hard Charger Award.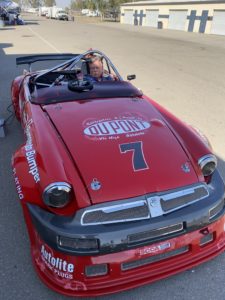 NASCAR's Motor Racing Outreach approached him to take part in their chaplaincy program and, over the last 20 years, he has worked closely with Bob Butcher, MRO NASCAR K & N West Series chaplain. Okell's highlight was officiating with the Christian message at Roy Smith's funeral in the Bear Mountain arena.
He continues to broadcast auto racing results for CFAX Radio, occasionally covering professional golf and CFL football, while also freelance writing for the Victoria Sports News internet site covering local drivers like Josh Reaume on the NASCAR Camping World Truck Series.