"69 drivers have entered once and won their races. Five drivers have entered twice and won twice. Just two drivers, Skip Barber and David Vegher, have entered three times and won all three. Now Collin Jackson is the only driver to have done it four times."
– Credit racer.com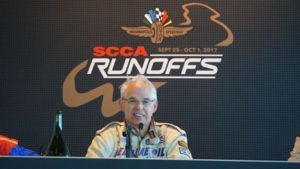 INDIANAPOLIS, Ind. (September 30, 2017, Credit scca.com.) – It was an all Canadian front row in the GT-3 race Saturday morning during the SCCA® National Championship Runoffs® at Indianapolis Motor Speedway. Collin Jackson, of Langley, British Columbian, and Joe Kristensen, of London, Ontario, were side by side when the green flag waved.
As it turns out, that was the closest the battle for the win would be in the GT-3 event as Jackson, driving the No. 53 Specialty Engineering/BM&M Screen Nissan 240-SX, stormed off to what would be a 51-second victory. That gives Jackson four wins in four Runoffs appearances.
It didn't really come as a surprise that Jackson was so hot Saturday. He held the top times all four days of qualifying and said the car actually came off the trailer perfect for testing last week at Indianapolis.
"We did a lot of work and figuring out what we needed for this track," Jackson said in a post-race interview. "We've been running this car for 22 years, actually, and have a massive amount of data. So, we rolled off the trailer just perfect. I was just tickled."
"When I was out there on the track today, I was just enjoying it to be honest," Jackson continued. "I was cruising around and kind of enjoying the moment. It's really neat going by and just seeing a glimpse of your number at the top of the scoring pole. I thought never, ever, ever is that ever going to happen for me. But it did. And that was pretty special. It's a really good Saturday morning when you wake up at Indianapolis and get to go to victory circle."
Behind Jackson, there was a vigorous struggle for the remaining podium positions. Kristensen, in the No. 14 Kristensen Racing Engines Acura RSX, had car troubles and fell out of the hunt. Jeff Dernehl, in the No. 71 Roswell Outback/RRE/Hoosier/Roux Mazda RX-7, inherited the second spot, but behind him the No. 41 Mazda/Hoosier/Mobil 1 Mazda RX-7 of Stacy Wilson and the No. 15 Toyota/TRD Toyota Paseo of Wolfgang Maike were closing in.
Maike got by Wilson working lap 12 and closed in on Dernehl. But Maike's car seemed to fade, and Wilson got past. Then he put the pressure on Dernehl, but it wasn't enough. After 19 laps, Dernehl held tight to claim the second spot on the podium.
"Those boys behind me kept me honest, kept me digging," Dernehl said. "I just kept figuring out where I was strong and put my focus there. I knew where Stacy was weak and knew where he was strong. So, I just kept working on my strengths and protected my weaknesses."
Wilson, the defending Runoffs champion, brought his car home in the third position.
"The car wasn't exactly what I wanted today. I couldn't get the power down," Wilson said after the race. "I, like Jeff, just started working on my strengths and just tried to get through the weaknesses. I just tried to drive smooth and hit my marks. That's all you can do."
Maike kept it together to finish fourth, and Rob Warkocki, in the No. 78 Hoosier/MazdaMotorsport/TRO Mazda RX-7, finished fifth.
The Sunoco Hard Charger award went to John Mills in the No. 122 Racer Parts Wholesale Mazda Miata who started 12th and finished sixth.
The 54th SCCA National Championship Runoffs, the Pinnacle of American Motorsports, crowns Sports Car Club of America's Road Racing National Champions this year at Indianapolis Motor Speedway from Friday, September 29 through Sunday, Oct 1.
While the live broadcast of all 28 National Championships is available at SCCA.com and Motor Trend OnDemand, each race will be on demand in the coming weeks.
INDIANAPOLIS, Ind. — Provisional results for Saturday's GT-3 race at the 54th SCCA National Championship Runoffs from Indianapolis Motor Speedway, with finish position, starting position in parentheses, driver, hometown, car and laps complete.
1, (1), Collin Jackson, Langley, BC, Nissan 240-SX, 19.
2, (3), Jeff Dernehl, Roswell, GA, Mazda RX-7, 19.
3, (5), Stacy Wilson, Englewood, TN, Mazda RX-7, 19.
4, (6), Wolfgang Maike, Santa Barbara, CA, Toyota Paseo, 19.
5, (4), Rob Warkocki, Frankfort, IL, Mazda RX-7, 19.
6, (12), John Mills, Fostoria, OH, Mazda Miata, 19.
7, (11), Jeffrey Barrow, Acton, CA, Acura RSX, 18.
8, (13), Ken Nelson, Novi, MI, Nissan 200-SX, 18.
9, (9), James Ashe, Prospect, CT, Mazda RX-7, 18.
10, (15), Ray Stephenson, Miami, FL, Mazda RX-7, 18.
11, (16), Sam Moore, Kannapolis, NC, Volvo 1800 S, 17.
12, (10), Bill McGavic, Arcadia, FL, Mazda RX-7, 16.
13, (17), George Walker, Tulsa, OK, Mazda Miata, 16.
14, (2), Joe Kristensen, London, ONT, Acura RSX, 5.
15, (7), Chad Bacon, Mooresville, NC, Toyota Celica, 1.
16, (8), Paul Young, Commerce Township, MI, Ford Probe, 0.
DNS, (14), Rick Ricker, Waterford, VA, Toyota Celica.
Length of Race: 49 miles
Overall Time of Race: 34:07.533
Average Speed: 86.588 mph
Margin of Victory: 51.654 seconds
Fastest Race Lap: 1:46.330 (87.757 mph)
Lap Leaders: No. 53 laps 1-19
Sunoco Hard Charger: No. 122 John Mills
Image: Collin Jackson is now four for four when it comes to Runoffs starts and wins
Credit: Jay Bonvouloir