Fans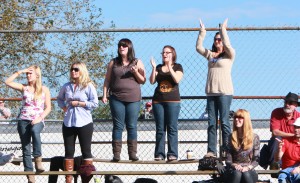 While there is no doubt that racers would find a way to compete in the dark on a deserted island, all agree that fans bring an excitement and a level of enthusiasm that completes the sport of racing. The River's Edge Road Course at Mission Raceway is no different and is grateful for the tremendous support shown by its fans over the years. In return, the SCCBC works hard to deliver highly entertaining and competitive motorsport events at a very reasonable price for our fans.
Come and join us at River's Edge Raceway and treat yourself to some of the most exciting road course competition in Canada. And be sure to visit our racers and pit crew in the open paddock where your questions and comments are welcomed and encouraged. Who knows, once you've seen the fun, you may be one of them sooner than you think!
Spectator Information
Viewing
Spectator viewing at River's Edge is second to none with two large grandstands offering a view of 75% of the track. Motorsport events run from April through October, rain or shine. The action starts at 9:00 AM with practice and qualifying sessions on both Saturday and Sunday followed immediately by exciting wheel-to-wheel racing. After it's all over, visit our Race Results page to find lap times and speeds for your favorite drivers and cars.
Pit Access
They may look busy but racers love nothing more than to spend a few minutes with their fans to talk about their car, their experience and their love for the sport of auto racing. Spectators are encouraged to tour the paddock, view the cars up close and talk to the drivers and crew. Who knows, your 5-year-old may even get a few moments in the cockpit of that formula car he liked so much!
Admission and Parking
River's Edge recognizes the commitment of its fans and spectators by charging some of the lowest prices in the motorsport industry. Children 12 and under are admitted free while adult admission is only $10, and even lower by the bunch. Bring a carload and everyone on board gets in for $25. Plus parking is always free.
Food Services
River's Edge provides great food services on site with a large mall minutes away and hotels just around the corner. There is a large safe area near the grandstands where spectators can enjoy a picnic with the whole family.
Track Layout
By some standards, the River's Edge Road Course at Mission Raceway is compact at just 2.25 kilometers. What it lacks in length, it makes up in challenging corners and great spectator views. Visit our track layout page for information on this great motorsport venue.
Schedule
Fill your calendar with our calendar. Visit our schedule page to find when our motorsport events are being held and bring your entire family for a weekend of motorsport action.
Directions
The SCCBC operates out of the River's Edge Road Course at Mission Raceway in Mission, BC. The track is located in a picturesque setting just a few meters from the mighty Fraser River just over the Mission Bridge from Abbotsford. Visit our directions page for help on finding your way to a weekend of motorsport fun and excitement.