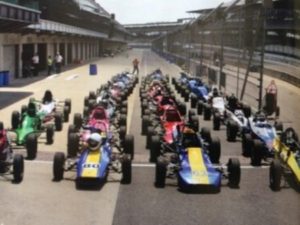 Few motorsport racers will ever get the opportunity to run at the legendary Indianapolis Motor Speedway, home of the Indianapolis 500. Local racer and long-time SCCBC member Keith Robinson wasn't about to pass up on his chance. On June 7-11, 2017, the Brickyard played host to the 2017 Open Wheel World Challenge, celebrating the 50th anniversary of the introduction of Formula Ford racing, and Keith was there. This is Keith's story in his own words.
In 1967 I attended a Jim Russell Racing School class at Snetterton race track in Norfolk England. I had been a Formula One and general road racing fan since I was about 12 years old. I don't recall the model of car I drove but for 8 British Pounds (about $20!), a week's wages, I got to drive up and down a short straight between some cones in one gear!
In 1970, now living in Toronto, I wrenched on a Winkleman/Palliser for one of the Bulova Formula Ford Championship competitors and my reward was the use of his car for my Novice race at Harewood Acres (Niagara peninsula) at the end of the year. I won that race and it took another 25 years to win my second!
In 2001 I bought a 1980 RF80 Van Diemen from Randy Mainland and started racing Formula Ford at Mission Raceway Park. There were few FF's to race against in the early part of the 2000's so I went back to sedan racing. I had been running the RF80 in Formula Libre when, in about 2012 I was offered a 1979 RF79 Van Diemen for 'a price I couldn't refuse' (the transmission was in pieces in a box!). I had lots of fun in that car for 3 years, it was easy to drive and I actually finished 2nd in the FF Championship in 2013.
In 2016 I had acquired two more race cars, a sedan and a sports racer (too many racecars) so I sold the RF79 to local racing legend Rick Payne (SCCA National Champion in FF). A matter of weeks after that the 50th Anniversary Race for Formula Fords was announced by the Sportscar Vintage Racing Association to be run at Indianapolis Motor Speedway!
Having been involved, albeit on and off for the last 50 years with FF, it was immediately clear to me I had to go to that race! I mean Indianapolis,Formula Ford, how can you not go to that race? But now I didn't have a FF!! So finding Frank Winterlink's car on VRCBC website was another clear sign I had to go to IMS for the 50th.
I built a wooden box on my two wheel trailer, put gas in the 2001 Ford Escape and Susan and I headed east. Six days later at 7am we were ready to enter the epic facility when the police stopped us to say there had been a fatal accident at the track entrance (nothing to do with racing) and it would be 2 or 3 hours before we could get in. That was Wednesday, practice day, but by the time we got organized, through tech and had new Hoosier spec vintage tires installed, we never made it onto the track!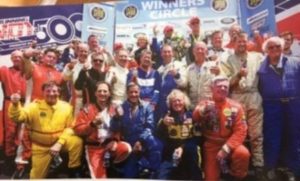 Thursday morning, a driver's meeting in the media center with 300 drivers from all over the states and some from Australia and England. The Open Wheel World Championship included Formula Fords, old Formula One cars, Formula Juniors, Atlantics, Formula Firsts and over 30 Formula Vees.
The next four days were a blur, in practice we had a 'square' tire that limited fast track time but allowed at least some learning of the corners. Qualifying sessions, a qualifying race and news that we had made the final on Sunday!! 65 FF's entered, in three different groups, only 45 qualified for the final, we were 40th. I chose not to run the last track sessions as I wanted to start the 'big one' (some cars never made it through to the final).
The OWWC was a closed event, no spectators just all racers and crew, the huge stands were all empty, it was a special calm but exciting atmosphere.
Pre-grid in Gasoline Alley, driving through the tunnel onto a track where so many racers that I have been in awe of for so many years, a thrill unlikely to be surpassed in my lifetime, truly awesome! I probably could have finished in the top 15 but daydreaming, running up near the wall on the banking, avoiding trouble and missing a restart after a full course yellow all led to a 21st place finish with no damage. Good enough for me and the bonus was my Polaroid video camera captured it all. I'm planning on putting my videos on a loop and watching my 'glory days' in the old folks home.
Footnote: There is a 'US FF 50th Anniversary SVRA event in 2019, I'm thinking that might be tough to miss, it would be nice to have company!