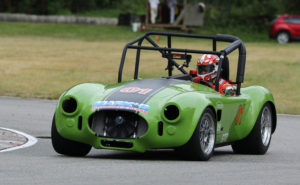 On June 10-11, 2017, Doug Yip hit the track at the Mission Raceway Park Road Course for the first time in his Tesla model S powered classic Shelby Cobra electric race car.
The car features a custom CAD-designed chassis and suspension encased by a classic Shelby Cobra body. The unit is driven by an electric motor from a Tesla Model S which gets its power from a Kia Soul EV battery pack.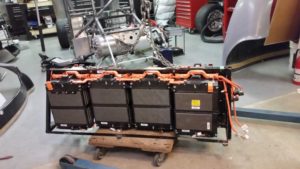 The Kia Soul EV battery pack was chosen for this project due to its substantial energy density as it is more capable of maintaining maximum power for a long period of time more than most other choices. Doug says battery run-time and time to recharge between sessions will be the major issues to deal with during testing this year.
The motor has 310 KW peak power with 6oo NM torque from 0-6000 RPM, gradually tapering off until the 16,000 RPM redline. The car has a special "torque biasing" differential as the Tesla powertrain has essentially too much torque for the chassis to handle without the Tesla traction control system. Doug has also added substantial cooling to help the motor run longer without overheating.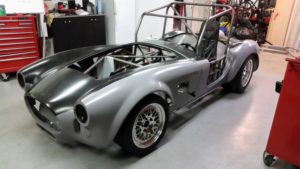 Total weight including driver comes in at 2100 pounds, a third of that coming from the chassis, roll cage and the hefty 400 pound battery pack. The car is built to GT regulations and is being run in the GTO class at the Sports Car Club of B.C. road races at Mission Raceway Park.
More information on this innovative race car can be seen in this video.